Architectural Projects
The selected projects in this showcase illustrate some of the common alteration and renovation projects that take place in New York City. While new construction, especially residential high-rises, is common throughout the city, our focus is on smaller projects that individual owners take on to increase the usability, comfort, and value of their homes.

Click the images at left for virtual project tours.
The virtual project tours include before, during construction, and after completion photographs, to educate the viewer in the process of construction as well as the overall design intent.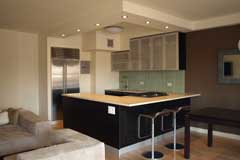 Project Submissions
To submit a project to be considered for inclusion in this showcase, please email the project details, including all specifications, finishes, and project photos, to the general email address indicated on the information page.